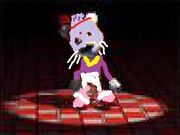 One day Tails doll was with his love Blaze doll they played and had fun and talked and stuff but one day

The evil Tails doll came and threw Blaze doll into the lake Tails doll fleed into the lake to save her. but it was to late Blaze doll had drowned and died Tails doll came out of the water and he turned around and looked at his evil twin the devil doll spoke sofly "Thats what you get for being nice..Brother" and then he was gone.It turns out that evil Tails doll is Tails dolls long lost brother Tails doll sits down on his knees he covers his eyes with his hands and starts sobbbing sofly and he says that he will do anything to bring Blaze doll back. And She came back. Good Tails Doll just got suprised and fainted. "Wamp! Wamp! Waaaaampp!" The narrator sang. "WILL YOU CUT THAT OUT!" Evil Tails Doll, Good Tails Doll, and Blaze Doll yelled at the narrator on his ear. "AHHHH! Your voices is like toothpicks in my drumsticks, Evil Tails Doll, Good Tails Doll, and Blaze Doll!" The narrator shouted.
Ad blocker interference detected!
Wikia is a free-to-use site that makes money from advertising. We have a modified experience for viewers using ad blockers

Wikia is not accessible if you've made further modifications. Remove the custom ad blocker rule(s) and the page will load as expected.